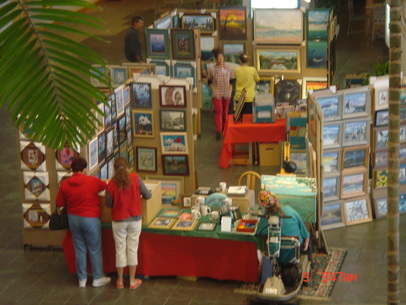 Hospital visits and shows have so many positive attributes, that it's almost too many to mention, but I love doing art shows that uplift people and give Hope. This has become a personal passion of mine to not only see as many patients as I can, but also to show the visitors, staff, Nurses and Doctors the value of positive thinking and determination to never give up no matter what the obstacles of life are thrown at you.
I hope that I can spread the change of the word disability, which is basically discouraging, to my new word called Diff-Ability. Diff-Ability is short for different abilities that we all have. And instead of using your disability for getting help, you should use and live by your Diff-Ability, and always help others.. No matter what sure situation is, everyone has an ability to offer help. What a great message to give anyone that is facing a stay at the hospital, especially the children. They definitely need to know that they have a great ability for themselves and to help others.
These Hospital art shows and speaking engagements, or one of the few times that I turn around and donate a percentage back into the health care system like the auxiliary or to someone there. That seems to have fallen in between the cracks of our system.
---