Fishing & Outdoor Sportsman shows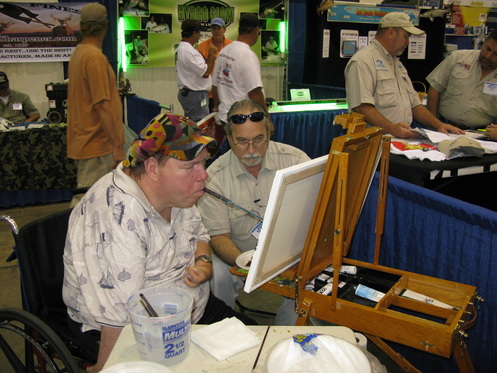 I guess living on the St Johns river with a brother, who was always bound to be a sports fishing captain, writing for papers and magazines, and having his own radio talk show about fishing, was bound to rub off on me. Ever since I can remember. I was always trying to go fishing with my big brother "Captain Rick Ryals" and the great thing was that he loved to take me fishing with him whenever possible.
This obviously lead to many drawings and paintings relating to fishing and boating either offshore or inshore in the boats are on old rickety dock's. Fishing was a passion that I always have felt that I was more of a fair challenge to the fish being "Mouth-to-Mouth Tug-of-War". It is one of the few dilemmas in my young life that I had to decide between two loves either Fishing for Painting.
So naturally showing off my paintings and drawings from my fishing experiences really went hand-in-hand at fishing and sporting shows throughout the country. When people noticed, the newspaper and magazine articles about how I had to fish with my mouth, then noticing those beautiful detailed artwork at fishing and hunting scenes from my experiences and imagination captures the heart of the sportsman.
---